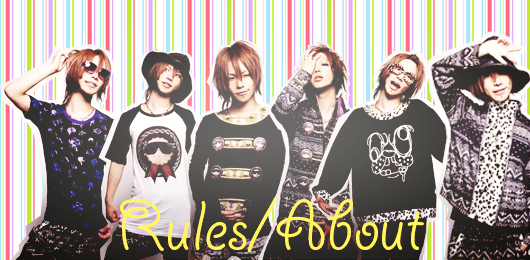 ☆ There is to be absolutely
no
hotlinking.
☆ If you upload to photobucket,
give me credit in the description
.
☆ You
must
credit
wakuwaku7
or
evil_queen369
if you use any of my graphics.
☆ Comment on the entry to let me know if you are using anything.
☆ Do not redistribute as your own!
☆ Textless icons are not bases.
☆ Don't ask for scans because I find all my photos through photobucket's search, and sometimes I find them through Tumblr's search or Google.
☆ To get a PSP theme, please comment with your e-mail so I can send it to you. Sites like Megaupload, 4shared, and Mediafire will not work for me when I go to upload. >.>
As I stated in the rules, I get all my images from Photobucket/Tumblr search. I do not claim any of the images as my own, nor would I ever. The graphics, however, are mine.
For graphics that look vectored/painted, I used the Topaz Clean plug-in for Photoshop. You can download a 30-day trial
here
. You just have to choose the one you want, click the win/mac option and put your e-mail in to get the serial number. After that, just read the e-mail. Please don't ask me how to install it, though, because I don't have time to give you step-by-step instructions. Sorry. =/
I do not give out .psd files or make tutorials.
Even though I know how to, I also will not make layouts. It's too time consuming, so I will not be making any. Maybe one day I will, but for now I'm not going to.
Affiliates:
heavenly90icons
contorted_chaos
nega_yaoi
Asagi RP on Tumblr
If you would like to affiliate, simply send me a message or comment. If you would like for me to put a banner on the community's profile page, you can go ahead and send me one (I will upload to my photobucket). Once my community gains more members, I will make banners as well.
heavenly90icons has one because.. well.. that's my sister's community.